You're busy running a business. You have employees to manage and when things are going well, it becomes easy to neglect your day-to-day IT maintenance. We get it, which is why we've put together this list of the top 7 things that your Managed Services Provider should be providing for you no matter what.
1. 24/7/365 Maintenance and Support
While a lot of what an MSP will do for you is done remotely, you'll want to make sure you pick a local provider for the times when they'll need to come on-site. You'll be grateful that while you and your employees don't work 24/7, your IT company does all year round. So no matter what happens, we've you covered.
2. Vendor Relationships
Do you currently have multiple vendors being utilized? Is managing them difficult and time consuming? Your Managed Services Provider handles them all and should be your one go-to contact for everything. How easy is that?
3. Experience with the Tools You Need Specific to Your Business
Not everyone needs the same tools in order to run their business efficiently. Your MSP should understand your business' needs and customize the tools you need accordingly. There should never be a one package fits all.
4. Cloud and Backup Services
One of the biggest benefits of having an MSP is not only letting them manage your IT services, but backing up your data to a remote server and manage updates automatically. Knowing all your important data is safe should be a huge priority for any business, no matter what industry you're in.
5. Helping You Get Prepared for Disaster
No one ever expects a disaster to happen. Whether it's because of a natural disaster or a hack, your Managed Service Provider should have a plan in place to ensure that your business won't be affected.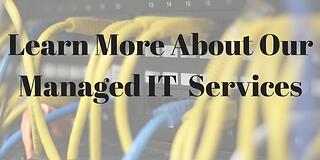 6. A Plan for the Future
Think of your MSP as another invested team member of your company. They should provide you an analysis of current trends and what to expect in the IT world. Coming up with a plan for the future is crucial to saving time and money down the road.
7. Support
Your MSP should provide support to you and all your employees no matter where they are. They should be able to help you remotely with a fast response time.
---
Summit Business Technologies has decades of experience offering technical and business consulting support. We provide a range of technology solutions to help businesses and organizations run more efficiently and communicate more effectively.  We support the Mid-Atlantic region including DC, Baltimore, Annapolis, and Northern Virginia.